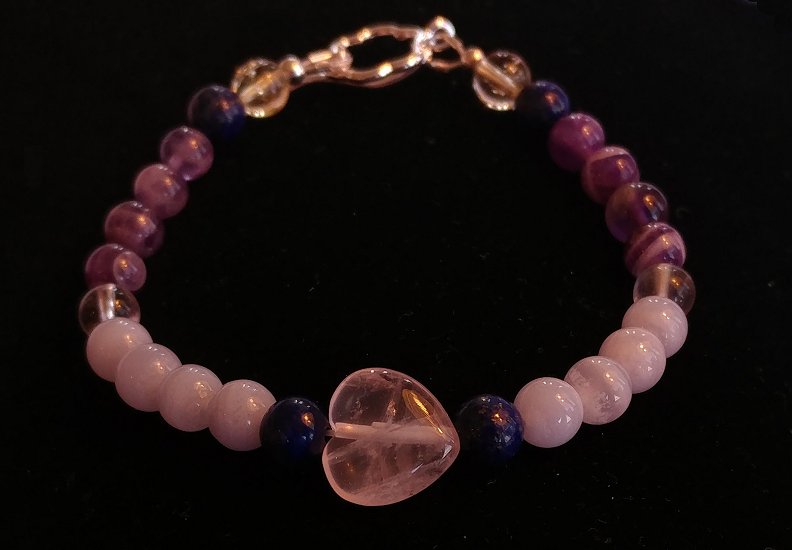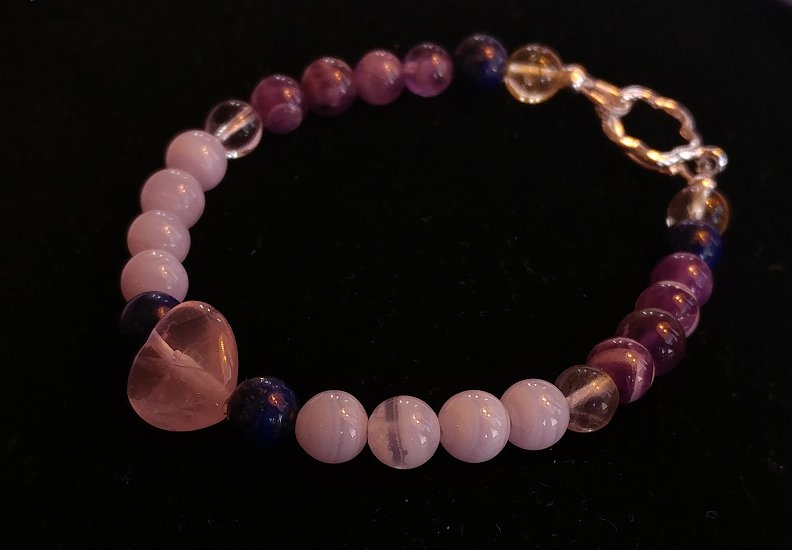 Gemstone Cocktail for Healing:
Rose Quartz, Lapis Lazuli, Blue Lace Agate, Fluorite, Amethyst & Citrine

My husband was in a car accident that injured his knee and his elbow.  I put together 2 bags of healing gemstones for him to wear on the knee and elbow. 
Then my friend, Christine, was having issues with inflamation. I made 2 bracelets of the gemstones to support reducing inflamation and so much more! The other Gemstone Cocktail for Healing is the Citrine Healing bracelet.
I click the mouse for my computer hundreds of times each day causing my index finger and hand to ache.  I created a bracelet for myself and wear it every day.  My hand feels So-Much-Better!
Read through the Metaphysical Properties below.  You may ask the gemstones to support  you with all or specific properties.
In love and light,
Kate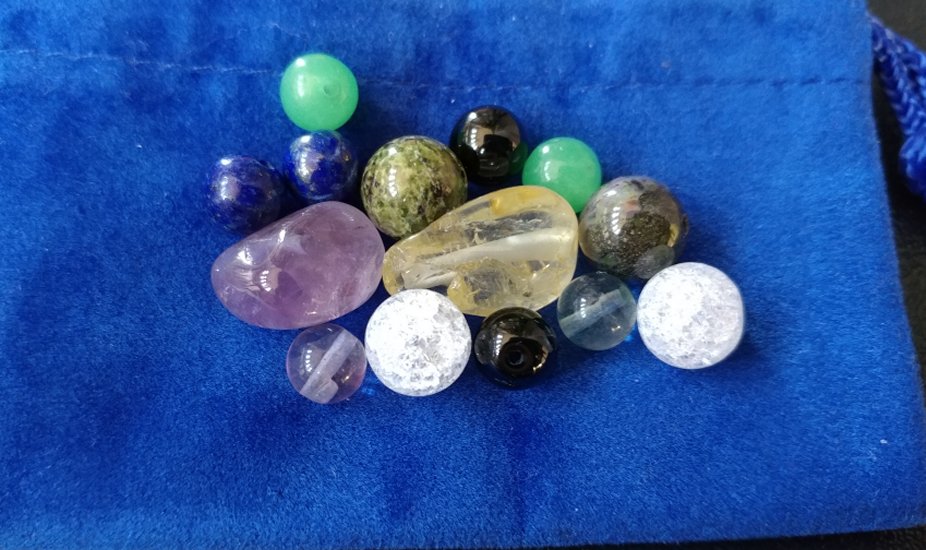 GEMSTONES: Rose Quartz, Lapis Lazuli, Blue  Lace Agate, Fluorite, Amethyst, Citrine  + .925 Silver clasp & hardware
Gemstones are 6mm, heart is 12mm x 12mm
All bracelets are handmade by Kate.  Each bracelet is cleared and cleansed of energy, then blessed and infused with healing Reiki prior to mailing to you.
.925 silver is used for all hardware and silver beads.
Allow up to 10 business days for the creation of your bracelet.
NOTE:  Be sure to select:
* The correct SIZE for your bracelet **AND ===>Select the clasp you prefer: Lobster OR Toggle?
Additional Note:  Due to browsers, monitors and the nature of gemstones, colors will vary.
Have trouble with clasps and prefer an elastic, stretch bracelet? Gotcha covered!
* encourages unconditional love
* teaches true essence of love and comforts grief
* purifies & opens the heart to love at all levels for deep inner healing & self love
* calming & reassuring – restores trust & harmony
* draws off negative energy – replaces with love
* aids in acceptance of necessary change
* enhances positive affirmations
* heals suppressed pain
* transmutes emotional conditioning that no longer serves to love
* encourages self-forgiveness & acceptance
* invokes self trust & self worth
* strengthens physical heart & circulatory system
* releases impurities from body fluids
* opens the third eye & balances the throat chakra
* stimulates enlightenment & enhances dream work
* facilitates spiritual journaling
* stimulates personal and spiritual power
* protective stone
* connects with spirit guides
* recognizes psychic attack, blocks it and returns energy to its source
* harmonizes the physical, emotional, mental and spiritual levels
* encourages taking charge of life
* reveals inner truth, encourages self-awareness
* stimulates higher faculties of the mind, bringing objectivity and clarity
* aids in expressing feelings and emotions
* dissolves emotional bondage
* alleviates pain, overcomes depression
* purifies blood & boosts the immune system
* alleviates insomnia and vertigo, lowers blood pressure
* supports healing, nurturing
* encourages verbal expression of feelings & thoughts by clearing throat chakra
* counteracts mental stress, neutralizes anger, enhances mental function
* strengthens skeletal system, heals fractures
* treats arthritis
* stable and grounding – harmonizing yin and yang
* centers and stabilizes physical energy
* reveals hidden information
* clams, soothes and prevents insomnia
* supports inward meditation, reflection, change & new beginnings
* aids self-analysis & perception of hidden circumstances reveals dis*ease
* strengthens the aura and acts like a shield
* provides balance between physical, emotional, intellectual & spiritual states
* alleviates hostilities & promotes goodwill
* improves memory and concentration
* increases stamina and overcomes negativity
* heals inner anger, fosters love
* dissolves internal tension
* highly protective
* cleanses and stabilizes the aura
* protective against computer & electromagnetic stress
* draws of negative energies and stress of all kinds
* cleanses, purifies, dispels and reorganizes what is out of order in the body
* grounds and integrates spiritual energies
* promotes unbiased impartiality and heightens intuitive powers
* quickens spiritual awakening
* focuses the mind and links to Universal mind
* brings suppressed feelings to surface for resolution
* increases self-confidence & dexterity
* dissolves illusions and reveals truth
* organizes and processes information
* increases concentration
* assists balance and coordination
* powerful healing tool – alleviates arthritis, rheumatism
* powerful protection
* blocks geopathic stress/negative energy
* enhances higher state of consciousness
* opens spiritual awareness and intuition
* calms and stimulates the mind as appropriate
* alleviates sadness & grief
* breaks up old emotional though processes
* supports clarity of thought and focus
* improves concentration
* promotes understanding of spiritual reality
* wards off insomnia
* balances the body's metabolism
* cleanses the blood to strengthen immune system
* reduces bruising, swelling and promotes injury healing
* powerful cleanser, energizes & regenerates
* energizes every level of life
* teaches how to manifest
* attracts wealth, prosperity, success – all good things
* imparts joy – smoothes discord
* raises self-esteem, self-confidence
* removes destructive tendencies
* supports positive attitude, optimism
* enhances concentration, revitalizes the mind
* supports overcoming depression, fears, phobias
* awakens higher mind
* imparts energy & invigorates physical body
* stimulates digestion, negates infections, supports eyes
* increases blood circulation & detoxifies
* channels and absorbs the energy of gemstones for healing
* stimulates psychic and spiritual awareness
* serves as a disinfectant for the body to boost immunity
* stimulates Kundalini energy