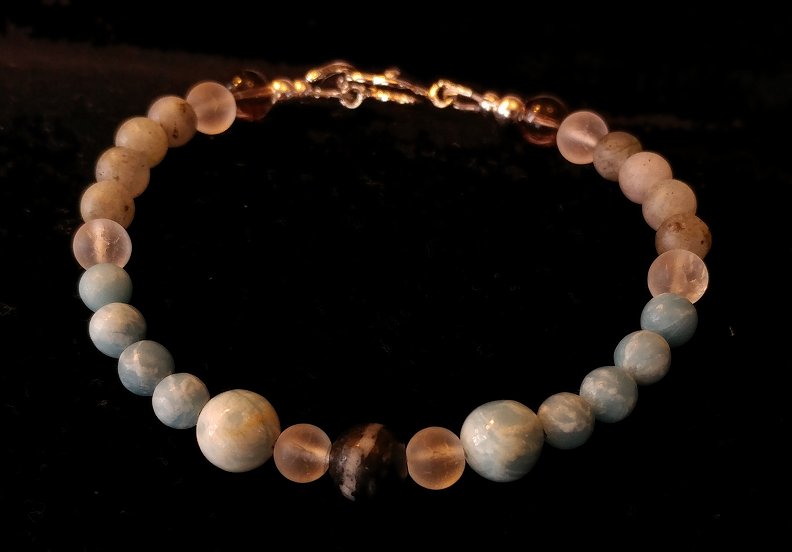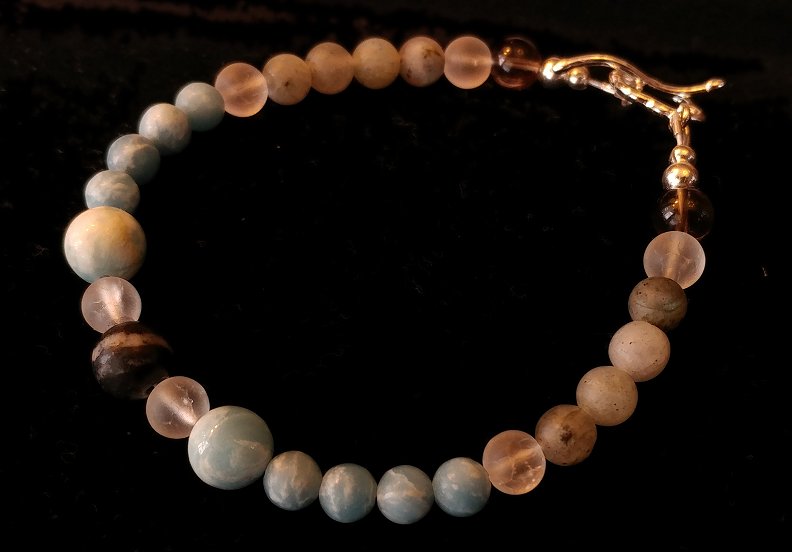 Gemstone Cocktail for Meditation:
Larimar, Black Networ, Clear Quartz, Labradorite & Smoky Quartz
Larimar is one of my favorite gemstones.  It holds miraculous angelic, healing energy and exhibits a protective love.  I LOVE this gemstone!

When I shared this with my friend Holly, she told me about Labradorite and how it magically raises the consciousness to connect us with Unversal energies.  I asked Larimar and Labradorite if they would join together to support me with their metaphysical properties and they said, yes!

And… they suggested bringing Clear Quartz, Smoky Quartz and Black Network along to amplify and support their energies.
Together they create a miraculous cocktail of grounding love and open the way to communicate magnificently with the limitless support and power of the Universe.
Ever heard the saying, "The Universe has your back."?  When I wear this bracelet, I FEEL it!
I must say, the photos of this bracelet do NOT do it justice.  The Larimar is brazenly beautiful and the Labradorite exudes the stability of Mother Earth.
Read through the Metaphysical Properties and ask this bracelet to support you with your intention.  The gemstones will!
In love and light,
Kate
GEMSTONES: Black Network, Larimar, Clear Quartz, Labradorite, Smoky Quartz + .925 Silver clasp & hardware
Large gemstones are 8mm, others are 6mm, silver is 4mm
All bracelets are handmade by Kate.  Each bracelet is cleared and cleansed of energy, then blessed and infused with healing Reiki energy just for you before mailing.
.925 silver is used for all hardware and silver beads.
Allow up to 10 business days for the creation of your bracelet.
NOTE:  Be sure to select:
* The correct SIZE for your bracelet **AND ===>Select the clasp you prefer: Lobster OR Toggle?
Additional Note:  Due to browsers, monitors and the nature of gemstones, colors will vary.
Have trouble with clasps and prefer an elastic, stretch bracelet? Gotcha covered!
* stone of inner stability
* harmonizes positive and negative
* grounds the emotions
* increases concentration and clarity
* opens the mind to higher thought
* stable and grounding – harmonizing yin and yang
* centers and stabilizes physical energy
* reveals hidden information
* clams, soothes and prevents insomnia
* supports inward meditation, reflection, change & new beginnings
* aids self-analysis & perception of hidden circumstances reveals dis*ease
* enhances mental function,
* strengthens the aura and acts like a shield
* provides balance between physical, emotional, intellectual & spiritual states
* alleviates hostilities & promotes goodwill
* improves memory and concentration
* increases stamina and overcomes negativity
* heals inner anger, fosters love
* dissolves internal tension
* most powerful, healing & energy amplifier
* absorbs, stores, releases & regulates energy
* unblocks energy & dispels static electricity
* raises energy to the highest level possible
* enhances psychic abilities
* attunes to spiritual purpose
* filters out distraction in meditation
* aids concentration, aligns consciousness & unlocks memory
* efficient receptor for programming
* energy saver
* stimulates immune system
* harmonizes all chakras
* spiritual stone that opens new dimensions
* radiates love and peace, promotes tranquility
* effortlessly induces deep meditative state
* naturally raises consciousness
* harmonizes body and soul to new vibrations
* spiritually empowering, dissolves boundaries
* guides your soul to its true path
* facilitates angelic contact & communication
* assists in taking control of your life
* dissolves self-sabotage behavior
* alleviates guilt, removes fear to meet challenge with equanimity
* brings serenity, clarity, constructive thought
* stimulates creativity
* brings calmness, equilibrium
* heals heart trauma
* reconnects playful childlike energy
* connects to the energy of Earth Goddess
* stimulates third eye, heart, crown & throat chakras
* clears the meridians of the body
* promotes self-healing & draws out pain
* dissolves energy blocks
* mystical, protective – bringer of light
* raises consciousness & connects with Universal energies
* deflects unwanted energy
* prevents energy leaks
* forms barrier to negative energy
* grounds spiritual energy into physical body
* aligns the physical with the etheric
* stimulates intuition and psychic gifts
* connects higher self & facilitates understanding
* banishes fears, insecurities & psychic debris of current & past lives
* clears the aura & calms the mind
* strengthens faith in self & trust in the Universe
* energizes imagination to generate new ideas
* reveals suppressed memories
* synthesizes intellectual thought & intuitive wisdom
* imparts strength & perseverance
* prepares body & soul for ascension
* relieves stress & regulates metabolism
* lowers blood pressure
* efficiently grounds & anchors
* raises vibration during meditation
* protective stone, strong link with earth & base chakra
* antidote for stress
* fortifies resolve
* grounds spiritual energy – neutralizes negative vibrations
* assists elimination & detoxification on all levels
* brings in positive vibration to fill space
* teaches how to heal what no longer serves
* relieves fear, lifts depression & brings emotional calmness
* alleviates nightmares & manifests dreams
* dissolves negative emotions
* promotes concentration
* alleviates communication difficulties
* facilitates moving between alpha & beta
* clears mind for meditation
* relieves pain and aids assimilation of minerals
* channels and absorbs the energy of gemstones for healing
* stimulates psychic and spiritual awareness
* serves as a disinfectant for the body to boost immunity
* stimulates Kundalini energy