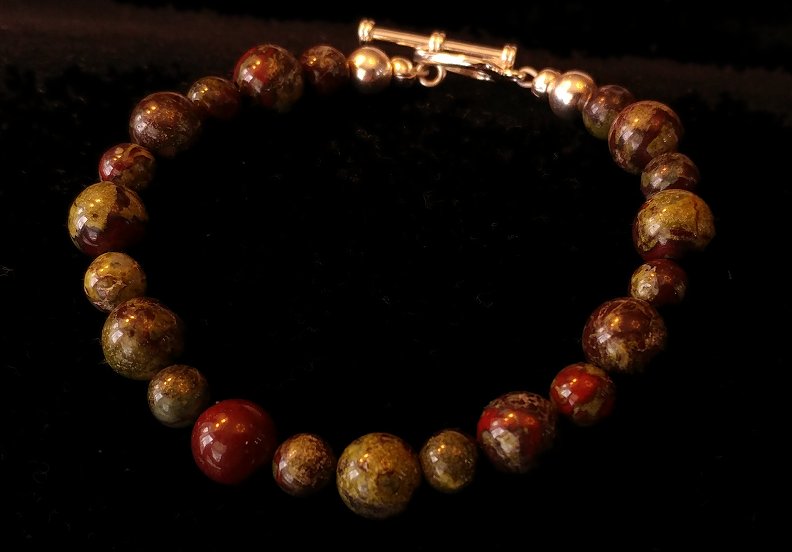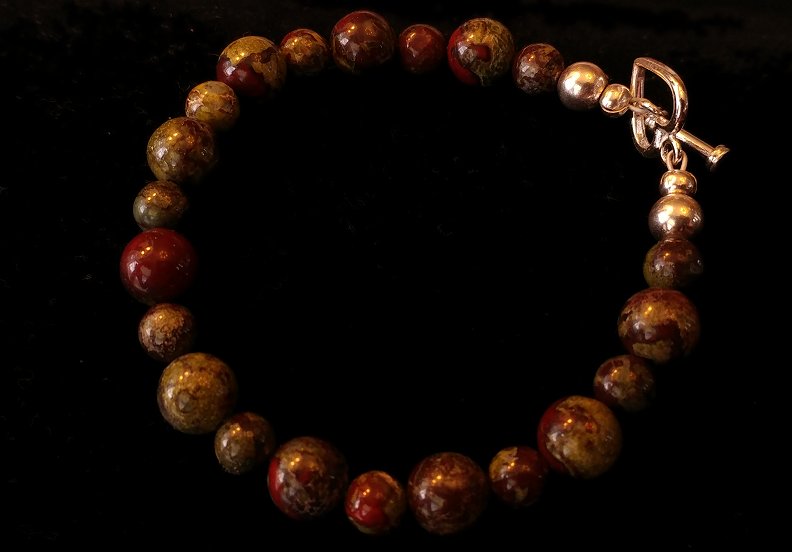 Powerful Bloodstone Jasper

I've always been fascinated by Bloodstone.  Almost 30 years ago I came across a beautiful sphere of Bloodstone in a little shop in Fairplay, Colorado.  The shop keeper told me how it is a powerful healer that purifies and cleanses the blood, while revitalizing and calming the mind and more importantly reduces irritability and impatience.  At the time I suffered from terrible PMS (OMG – it was as if I flew around on a broom!), so of course, I had to have it!
I loved my bloodstone sphere.  He had a little face in the swirls of red and green and held a calming energy.  I carried it in a little bag in my purse.  Then one day it was stollen.  I grieved terribly, then I accepted that someone else needed it more than I did and blessed him on his way.
When I began to create this beautiful jewelry for myself, I had to have a Bloodstone bracelet!
I feel truly powerful when I wear this remarkable gemstone – grounded with heightened intuition.   For me, my Bloodstone bracelet is VERY close to Wonder Woman cuffs – YES!  That-Powerful!

AND… my Bloodstones are happy to support and assist in adjusting to the flow of change and transformation, opening the way to create the highest possible outcome.

I love my Bloodstones and I'm sure you will, too!
In love and light,
Kate1


GEMSTONES: Bloodstone Jasper  + .925 Silver clasp & hardware
Gemstons are 6mm and 8mm
All bracelets are handmade by Kate.  Each bracelet is cleared and cleansed of energy, then blessed and infused with healing Reiki prior to mailing to you.
.925 silver is used for all hardware and silver beads.
Allow up to 10 business days for the creation of your bracelet.
NOTE:  Be sure to select:
* The correct SIZE for your bracelet **AND ===>Select the clasp you prefer: Lobster OR Toggle?
Additional Note:  Due to browsers, monitors and the nature of gemstones, colors will vary.
Have trouble with clasps and prefer an elastic, stretch bracelet? Gotcha covered!
* powerful healer, excellent grounding
* heightens intuition, increases creativity
* revitalizes and calms mind
* dispels confusion, reduces irritability and impatience
* assists in adjusting to the flow of transformation
* purifies and cleanses the blood
* detoxifies organs, aids circulation
* channels and absorbs the energy of gemstones for healing
* stimulates psychic and spiritual awareness
* serves as a disinfectant for the body to boost immunity
* stimulates Kundalini energy