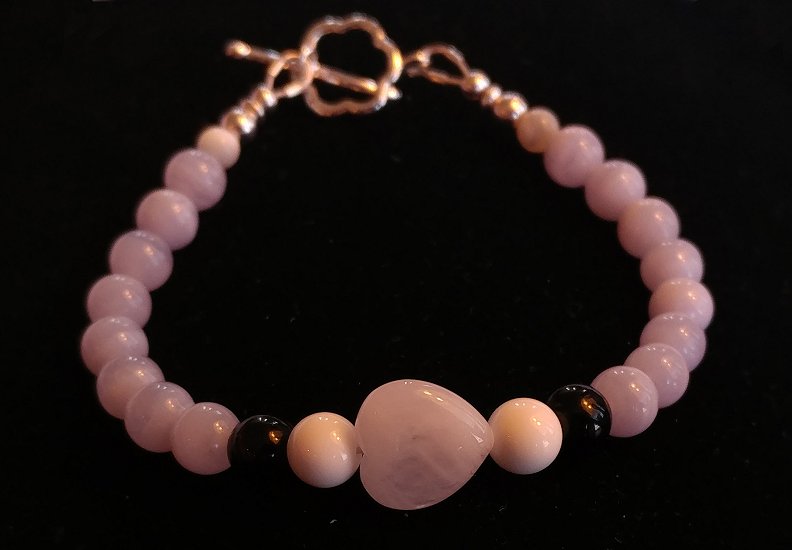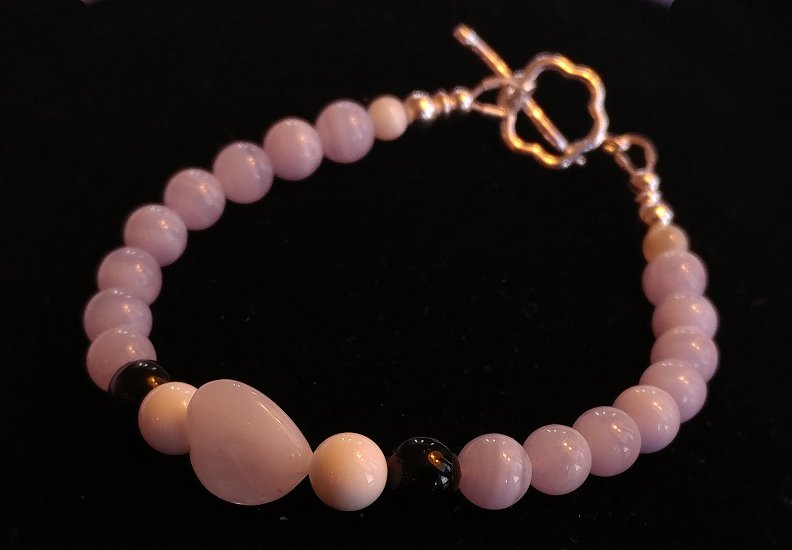 Loving, Nurturing Support Cocktail of Gemstones:
Rose Quartz, Blue Lace Agate, Tridacna, Black Tourmaline & Mother of Pearl

This loving cocktail of gemstones is nurturing, loving support for healing while awake and sleeping.  It brings beautiful peace and balance while dissolving the turmoil we soak up internally like a sponge.

This lovely, understated bracelet firmly grounds us and opens the way to deeper meditation to supports inner reflection.  Facing change and new begginnings becomes a fearless feat.
You'll love the sweet energy of these subtle, yet powerful gemstones.
In love and light,
Kate
GEMSTONES: Rose Quartz, Tridacna, Black Tourmaline, Blue Lace Agate, Mother of Pearl  + .925 Silver clasp & hardware
Gemstones are 6mm, heart is 12mm
All bracelets are handmade by Kate.  Each bracelet is cleared and cleansed of energy, then blessed and infused with healing Reiki prior to mailing to you.  Allow up to 10 business days for the creation of your bracelet.

.925 silver is used for all hardware and silver beads.
NOTE:  Be sure to select:
* The correct SIZE for your bracelet **AND ===>Select the clasp you prefer: Lobster OR Toggle?
Additional Note:  Due to browsers, monitors and the nature of gemstones, colors will vary.
Have trouble with clasps and prefer an elastic, stretch bracelet? Gotcha covered!
* encourages unconditional love
* teaches true essence of love and comforts grief
* purifies & opens the heart to love at all levels for deep inner healing & self love
* calming & reassuring – restores trust & harmony
* draws off negative energy – replaces with love
* aids in acceptance of necessary change
* enhances positive affirmations
* heals suppressed pain
* transmutes emotional conditioning that no longer serves to love
* encourages self-forgiveness & acceptance
* invokes self trust & self worth
* strengthens physical heart & circulatory system
* releases impurities from body fluids
* most white substance in the world
* stabilizes mood
* eliminates worry
* balances mental and physical states
* soothes frightened nerves
* helps with insomnia
* reduces blood pressure
* promotes metabolism
* cleanses, purifies & transforms dense energy
* grounds spiritual energy
* clears, balances chakras
* forms protective shield around body
* supports understanding of self & others
* promotes self-confidence
* diminishes fear, banishes victim mentality
* attracts inspiration, compassion, tolerance & Prosperity
* balances left/right brain, transmutes negative thought patterns
* promotes laid-back attitude, objective neutrality
* encourages clear, rational thought and positive attitude
* strengthens immune system, treats arthritis and pain relief
* supports healing, nurturing
* encourages verbal expression of feelings & thoughts by clearing throat chakra
* counteracts mental stress, neutralizes anger, enhances mental function
* strengthens skeletal system, heals fractures
* treats arthritis
* stable and grounding – harmonizing yin and yang
* centers and stabilizes physical energy
* reveals hidden information
* clams, soothes and prevents insomnia
* supports inward meditation, reflection, change & new beginnings
* aids self-analysis & perception of hidden circumstances reveals dis*ease
* strengthens the aura and acts like a shield
* provides balance between physical, emotional, intellectual & spiritual states
* alleviates hostilities & promotes goodwill
* improves memory and concentration
* increases stamina and overcomes negativity
* heals inner anger, fosters love
* dissolves internal tension
* organic gem
* protection and stress relief
* relaxing, soothing and calming to the emotions
* stimulates intuition, sensitivity & adaptability
* boosts imagination
* supports emotions to be harmonious and balanced
* release old emotions
* deepens spiritual connection
* channels and absorbs the energy of gemstones for healing
* stimulates psychic and spiritual awareness
* serves as a disinfectant for the body to boost immunity
* stimulates Kundalini energy