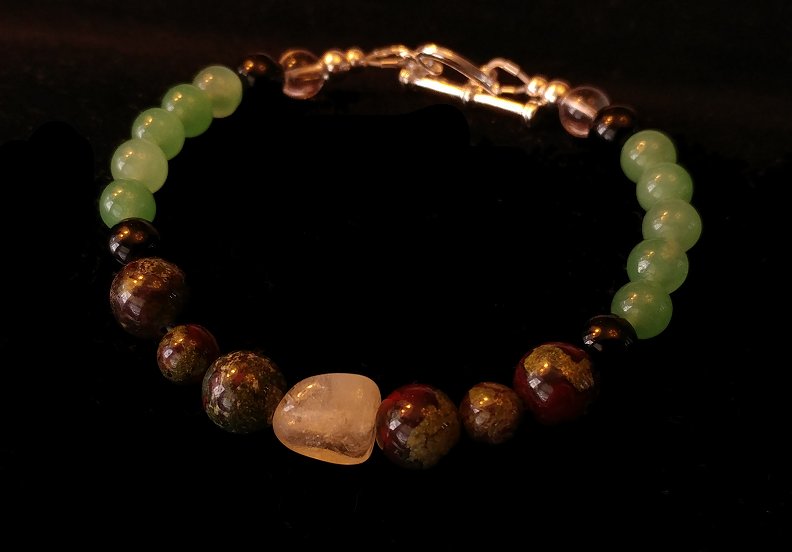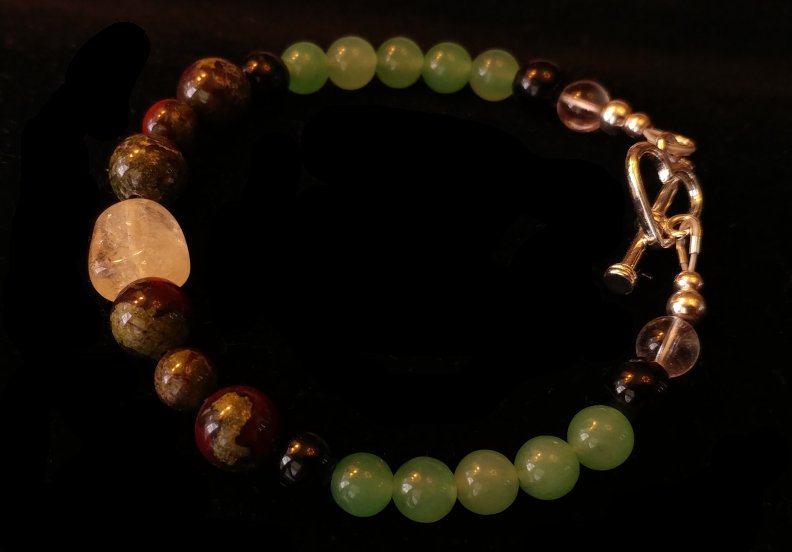 Gemstone Cocktail for Healing:
Citrine, Bloodstone, Aventurine, Black Tourmaline & Clear Quartz

My husband was in a car accident that injured his knee and his elbow.  I put together 2 bags of healing gemstones for him to wear on the knee and elbow. 
Then my friend, Christine, was having issues with inflamation. I made 2 bracelets of the gemstones to support reducing inflamation and so much more! The other Gemstone Cocktail for Healing is the Rose Quartz Healing bracelet.
I click the mouse for my computer hundreds of times each day causing my index finger and hand to ache.  I created a bracelet for myself and wear it every day.  My hand feels So-Much-Better!
Read through the Metaphysical Properties below.  You may ask the gemstones to support  you with all or specific properties.
In love and light,
Kate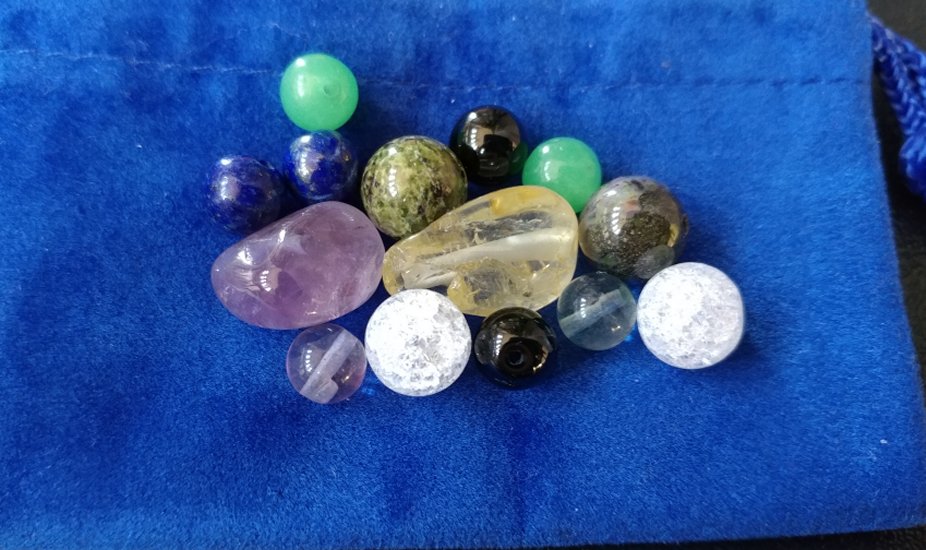 GEMSTONES: Citrine, Bloodstone, Black Tourmaline, Aventurine, Clear Quartz + .925 Silver clasp & hardware
Round gemstones are 6mm and 8mm, middle citrine gemstone varies in size
All bracelets are handmade by Kate.  Each bracelet is cleared and cleansed of energy, then blessed and infused with healing Reiki energy just for you before mailing.
.925 silver is used for all hardware and silver beads.
Allow up to 10 business days for the creation of your bracelet.
NOTE:  Be sure to select:
* The correct SIZE for your bracelet **AND ===>Select the clasp you prefer: Lobster OR Toggle?
Additional Note:  Due to browsers, monitors and the nature of gemstones, colors will vary.
Have trouble with clasps and prefer an elastic, stretch bracelet? Gotcha covered!
* powerful cleanser, energizes & regenerates
* energizes every level of life
* teaches how to manifest
* attracts wealth, prosperity, success – all good things
* imparts joy – smoothes discord
* raises self-esteem, self-confidence
* removes destructive tendencies
* supports positive attitude, optimism
* enhances concentration, revitalizes the mind
* supports overcoming depression, fears, phobias
* awakens higher mind
* imparts energy & invigorates physical body
* stimulates digestion, negates infections, supports eyes
* increases blood circulation & detoxifies
* powerful healer, excellent grounding
* heightens intuition, increases creativity
* revitalizes and calms mind
* dispels confusion, reduces irritability and impatience
* assists in adjusting to the flow of transformation
* purifies and cleanses the blood
* detoxifies organs, aids circulation
* cleanses, purifies & transforms dense energy
* grounds spiritual energy
* clears, balances chakras
* forms protective shield around body
* supports understanding of self & others
* promotes self-confidence
* diminishes fear, banishes victim mentality
* attracts inspiration, compassion, tolerance & Prosperity
* balances left/right brain, transmutes negative thought patterns
* promotes laid-back attitude, objective neutrality
* encourages clear, rational thought and positive attitude
* strengthens immune system, treats arthritis and pain relief
* attracts money
* enhances intelligence, bringing clairvoyance
* reinforces leadership qualities & decisiveness
* stabilizes the mind
* calms anger & irritation
* supports understanding source of conditions
* assists with connection to spirit guides
* absorbs electromagnetic smog
* protects against environmental pollution
* balances blood pressure
* stimulates metabolism
* anti-inflammatory effect
* ease allergies, soothes eyes, relieves migraines
* most powerful, healing & energy amplifier
* absorbs, stores, releases & regulates energy
* unblocks energy & dispels static electricity
* raises energy to the highest level possible
* enhances psychic abilities
* attunes to spiritual purpose
* filters out distraction in meditation
* aids concentration, aligns consciousness & unlocks memory
* efficient receptor for programming
* energy saver
* stimulates immune system
* harmonizes all chakras
* channels and absorbs the energy of gemstones for healing
* stimulates psychic and spiritual awareness
* serves as a disinfectant for the body to boost immunity
* stimulates Kundalini energy