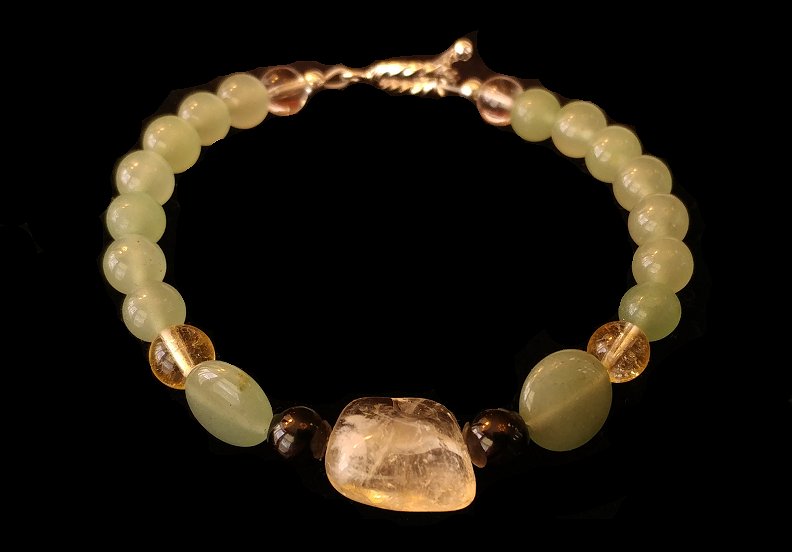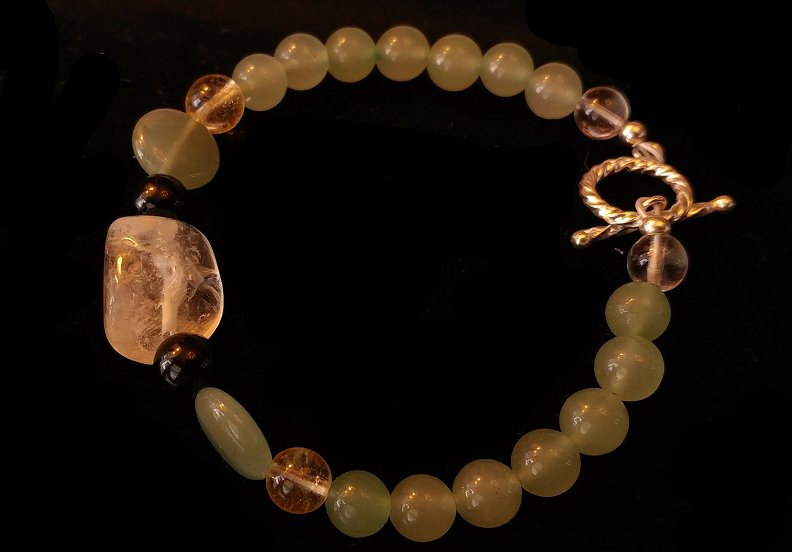 Gemstonte Cocktail to Attract Wealth and Prosperity:
Aventurine, Citrine, Black Tourmaline, Clear Quartz
We all respond to receiving more money! $$
As you know, "Intention is everything!" and when we set our intention to attract more money to us, wearing a bracelet that REMINDS us that we have the power to create and have more money is priceless!

When I asked these gemstones to come together as one powerful money magnet, they were SO Excited to be of service.  The sands – and gemstones – of Mother Earth KNOW what is going on here with us humans – e.g.  cash flow provides shelter, food, health care, travel to see loved ones – vacation from loved ones 😉 – cash flow gives we humans a sense of security and stability.  I'm not saying this is right or wrong, it simply IS. 
Money symbolizes freedom to us.
It isn't selfish or wrong to ask God, Creator, the Universe for money.  Money is not a dirty word.
It's practical.
So release your need to feel guilty and undeserving of money. 
Don't just ask for money – DEMAND it!
Then be open to the Universe delivering money to you through the channel of its choosing.
Know that no matter what you have or have not done in your life, you deserve to be happy – and happiness flows with fulfillment of human needs.
This Wealth bracelet is a tangible Talisman to REMIND you that you are a Powerful Limitless Spiritual Being.

In love and light,
Kate
GEMSTONES: Citrine, Black Tourmaline, Aventurine, Clear Quartz + .925 Silver clasp & hardware
Round gemstones are 6mm, flat round is 10 mm, center citrine stone varies in size
All bracelets are handmade by Kate.  Each bracelet is cleared and cleansed of energy, then blessed and infused with healing Reiki prior to mailing to you.  Allow up to 10 business days for the creation of your bracelet.

.925 silver is used for all hardware and silver beads.
NOTE:  Be sure to select:
* The correct SIZE for your bracelet **AND ===>Select the clasp you prefer: Lobster OR Toggle?
Additional Note:  Due to browsers, monitors and the nature of gemstones, colors will vary.
Have trouble with clasps and prefer an elastic, stretch bracelet? Gotcha covered!
* powerful cleanser, energizes & regenerates
* energizes every level of life
* teaches how to manifest
* attracts wealth, prosperity, success – all good things
* imparts joy – smoothes discord
* raises self-esteem, self-confidence
* removes destructive tendencies
* supports positive attitude, optimism
* enhances concentration, revitalizes the mind
* supports overcoming depression, fears, phobias
* awakens higher mind
* imparts energy & invigorates physical body
* stimulates digestion, negates infections, supports eyes
* increases blood circulation & detoxifies
* cleanses, purifies & transforms dense energy
* grounds spiritual energy
* clears, balances chakras
* forms protective shield around body
* supports understanding of self & others
* promotes self-confidence
* diminishes fear, banishes victim mentality
* attracts inspiration, compassion, tolerance & Prosperity
* balances left/right brain, transmutes negative thought patterns
* promotes laid-back attitude, objective neutrality
* encourages clear, rational thought and positive attitude
* strengthens immune system, treats arthritis and pain relief
* attracts money
* enhances intelligence, bringing clairvoyance
* reinforces leadership qualities & decisiveness
* stabilizes the mind
* calms anger & irritation
* supports understanding source of conditions
* assists with connection to spirit guides
* absorbs electromagnetic smog
* protects against environmental pollution
* balances blood pressure
* stimulates metabolism
* anti-inflammatory effect
* ease allergies, soothes eyes, relieves migraines
* most powerful, healing & energy amplifier
* absorbs, stores, releases & regulates energy
* unblocks energy & dispels static electricity
* raises energy to the highest level possible
* enhances psychic abilities
* attunes to spiritual purpose
* filters out distraction in meditation
* aids concentration, aligns consciousness & unlocks memory
* efficient receptor for programming
* energy saver
* stimulates immune system
* harmonizes all chakras
* channels and absorbs the energy of gemstones for healing
* stimulates psychic and spiritual awareness
* serves as a disinfectant for the body to boost immunity
* stimulates Kundalini energy