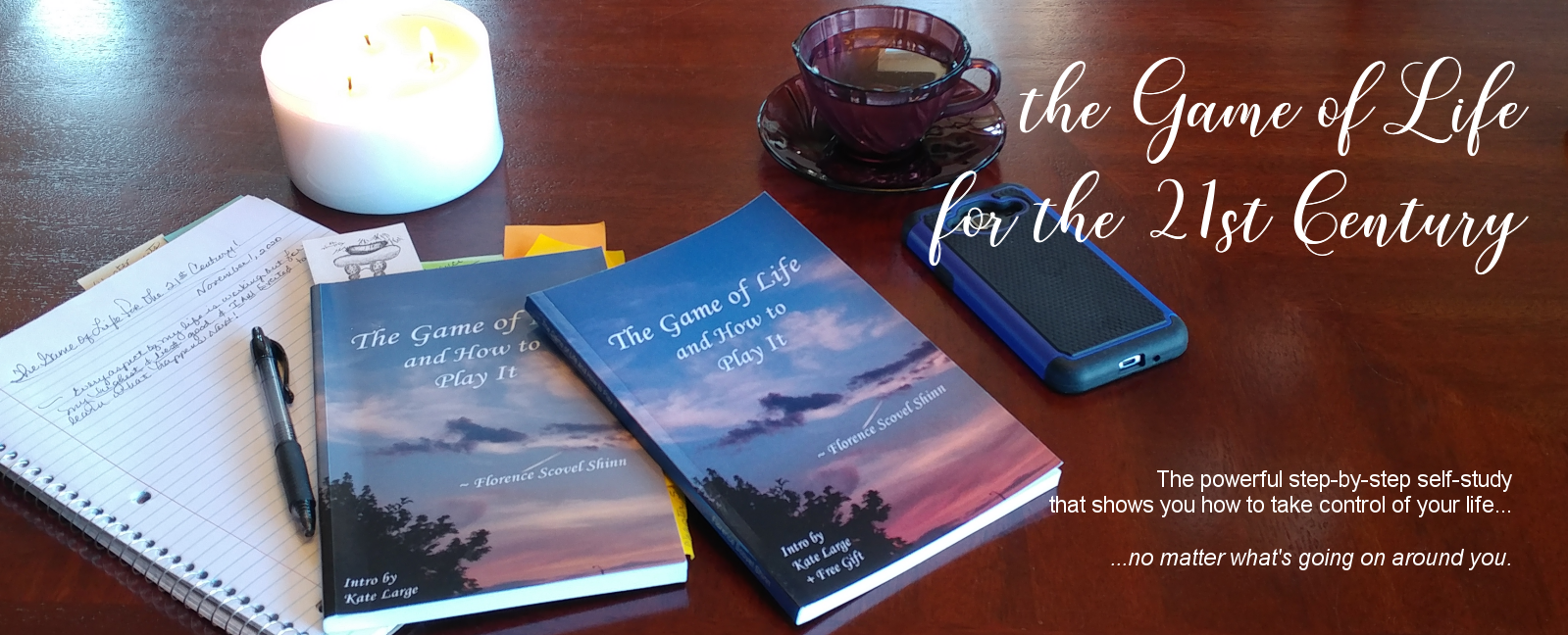 So… you love The Game of Life and How to Play It…
But you've come to realize that as you attract miraculous experiences like a magnet, you also unleashed a rash of problems that keep popping up like a wack-a-mole game.  What the heck?
Unfortunately…
…Florence isn't going to be holding a Zoom meeting to give you action steps for your 21st century needs.
How awesome would it be to get the inside scoop on how to relieve the stress of your whack-a-mole problems, implement the step-by-step guidance and move forward with your happier life – all on your schedule?
Boom – Bam – Done
*** You've come to the right place! ***
When you join this program today,
 you'll get immediate access to the life-changing

21st century deep dive into Florence's timeless hundred-year-old teachings
of The Game of Life and How to Play It.
Every week for 24 weeks you'll get access to a new module.
Each module includes a 7-20 minute 21st Century Audio that dials-in on specific teachings in the chapter, fleshes them out and brings them into our microwave, gotta-have-it-now 21st century with direct action steps.
The 21st Century Audios deliver:
* insight with clarity,
** aha moments,
*** introspection and
**** step-by-step guidance to manage and implement what you discover and learn
(PLUS transcripts for those who prefer to read)
In short order you'll have crystal clear understanding about:
* why there are side-effects to improving your life – and how to use those side-effects to your advantage when they show up with an overnight bag
* when served lemons… fearlessly stare adversity in the face and create a higher outcome – delicious, mouthwatering Lemon Sorbet
* how you subconciously became a hostage of negative subconscious records and how to re-write them and set you free (did you know that Florence was teaching how to do this almost 40 years before scientists proved it could be done!?)
* the action steps to make the "oooh… this doesn't feel right" feeling work for you as a golden opportunity

* how to shine a spotlight on the hidden fears that have been sabotaging your life and banish them
* the internal battle that wreaks havoc with your 3 levels of consciousness operating system – what it is, how it starts and how to make it STOP (it's more simple than you think)
…these nuggets are but the tip of the iceberg – if you've been in my community for a while, you know I provide all you need and more…
Next thing you know…
you'll have everything you need to not only be the leading character in your life story,
you'll also be the producer, director, screen writer and financier with
an unlimited budget – total control

your friends and family will be asking…
"What – are – you – doing – that's – improving – your – life?"
The prayers for help to get out of the survival mode (you probably didn't even know you were in),
fearlessly deal with adversity and
overcome the feelings of powerlessness that life has dumped on you
have. been. heard.
This is your opportunity to get the inside scoop – the answers, guidance, action steps and support tools you need.
It's time to STOP the struggling and wishing for something better,
and instead…
stand in your power and
Feel Safe. Empowered. Capable.

24 – 21st Century Audios

* short 7-20 minute audios that deep dive into Florence's teachings with "How To Action Steps" (plus transcript)
Note:  a new module is released every 7 days for 24 weeks.
24 Worksheets
Each module includes a worksheet to guide you through integrating the information delivered in the 21st Century Audio.
Digital Book: The Game of Life and How to Play It by Florence Scovel Shinn

* audio book read by Kate
** full book PDF format as well as by individual chapter per module
PLUS… you'll get Bonus info and Recommended Resources
NOTE:  you'll have access to both PDF and audio files of The Game of Life chapter
as well as transcripts of the 21st century information audios – both may be downloaded to all your devices.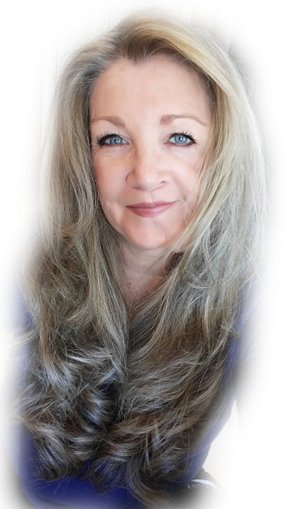 Transcript: Kate's Invitation Message
Hi, I'm Kate!
I created the Game of Life for the 21st Century program to support you to feel safe, no matter what's going on around you.
It's designed to develop and show you how to use the power within you to create the highest possible outcome in all areas of your life – even when adversity blindsides you.
When you register for this program, you anchor your intention to improve your life. Immediately, behind the scenes energy begins to shift and to take form in new shapes that were just a thought before.
If you've read Florence's books more than once, then you know that every time you read them, you discover something new – something you don't remember reading before – something that speaks to you differently and supports you in a new way.
Why does this happen? Because every time you read her teachings, you're at a higher vibration of understanding, so the content speaks to you differently than it did before. Your higher vibration opens the way for a new wakening of your soul – a more profound expansion of awareness – a deeper understanding of the power within you, every – time.
You know that Florence's simple concepts go deep… they speak to the heart of your soul, revealing the truth – the truth that you truly ARE worthy, deserving and good enough to be, do and have the life that brings you the greatest joy and makes your heart sing…
Florence's teachings reveal what she calls subconscious records that aren't true and hold you back. Science calls these subconscious records neural pathways of belief. Did you know that the first scientific evidence of neuroplasticity – that ability to rewrite neural pathways of belief – wasn't confirmed until the 1960s? Florence was teaching how to rewrite subconscious records decades earlier.
No matter what negativity the world is belching, YOU have the Power to improve your life – the power within you to shift your energy and manifest a new physical experience from within — to your reality of the world outside of you.
You. Have. The. Power.
When you fully engage in this program, you'll be supported to implement Florence's simple teachings into today's world to improve your life.
Each module includes a chapter of The Game of Life and How to Play It, a short to the point audio that dives deep into that chapter and a brief, powerful worksheet to guide you to implement the 21st century info.
When you fully engage, the teachings will powerfully support you to improve your square of life – health, wealth, love and perfect self-expression.
Please be aware, that just by looking into this program… you've opened the door to improve your life and there's no going back – especially after this year of 2020. I experienced 2020, too, and THIS is just what I needed to feel safe, supported and to be happy no matter what was going on around me.
This program is a self-study – and falls under the heading of self-care and nurturing yourself to Be who you want to be and to LIVE the life you want to live. It's time to take your power back from 2020 and everyone and everything you've given it to.
Scroll down and begin immediately!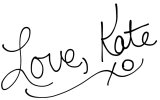 Transcript: Who are Kate & Florence?
I'm So Excited to digitally present this all new Game of Life for the 21st Century program!
Over 25 years ago, when I was going through a 'drowning in fear without physically dying' phase, the angels were asked, what would help me?  The Game of Life and How to Play It, published in 1925 by Florence Scovel Shinn, fell out of the bookcase onto the floor.  The loving support of Florence's energy and teachings literally saved me.
For the last 15 years I've worked with Florence's spiritual energy to bring her hundred year old timeless teachings into our 'gotta-have-it-now' 21st century.  As a result, I've become the leading authority of Florence's teachings, as well as a best selling author at Amazon with The Game of Life Workbook.
Through the years I've created e-courses, workbooks, mastery classes, meditations and masterminds.  As each new exciting form of support was created, I released them to my community in over 60 countries throughout Mother Earth – lives have been changed. 
As a student of Florence, you know that she lived during the Great Depression, and the world was struggling with World War I and II.  She was a metaphysical teacher whose teachings held the safe space of love when it was NOT mainstream.  Even though she was a divorced woman of the early 20th century, people responded to her and her teachings and against great odds, their lives improved.
Florence fully believed her students could improve their lives by managing and focusing the power within them.  She helped them believe by 'speaking the word' and 'treating' for them.  Her energy supported them to transform their energy and they created and lived miraculous experiences.
 Now, here we are… in the last breaths of 2020, hoping for a better 2021.
I say, lets make these last breaths 'the best' of 2020.  Invest in yourself – purchase the program and schedule a few minutes every day to connect with the beautiful essence of love and light that you are.  Embrace the loving support energy as it's delivered to you through the modules and allow yourself to excel at everything you do.
As your light begins to shine more brightly, you'll bring light and anchor hope for a better  day today and a magnificent tomorrow.
I envision you… living your greatest, most magnificent life.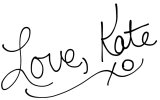 $25 Limited Time SPECIAL $19.99 – 6 Payments
(30 days apart)


$150  Limited Time SPECIAL $99 – 1 Payment
($20 savings)
Unsure?  Following are the experiences of The Game of Life Mastery Program students.  If you prefer to work with Florence's teachings with LIVE virtual support group calls and private sessions, click here to learn more about the Manifesting with Florence Membership …the Inner Circle.
What others are saying:
Prior to The Game of Life finding its way to me, I had worked for a few years with a spiritual counselor (1995-2001) which gave me a great foundation. I've been successful in my life in many regards however, I can see that I have placed limits on myself based on past upbringing and ingrained beliefs.
In 2008 I enrolled in a 1 year mentor program with Bob Proc-tor. I developed a better understanding of how to "play the game of life" in just two months with The Game of Life Workbook than after one year in Bob's program.
I've read a lot and followed a lot of people and I'm not sure if anyone can explain the game of life, which we each play, as simplis-tically as Florence does. I think it's impossible to use the word "Florence" and "complicated" in the same sentence.
The Game of Life Mastery program has been a fantastic ex-perience for me. I believe I was lead to meet Kate, and when given the opportunity to study with her I didn't think twice. Kate took me from where I was in my spiritual journey before the program to a new level. She put my spiritual growth on steroids, through her kind and caring explanations to her guided meditations, to move me closer to my spiritual and life goals. I was skeptical anyone could teach me the steps I needed to rid myself of worry. Yet Kate's step-by-step guidance did wonders for me. I met my personal "worry angel" (Simon) and handed over my worries to him. Does this mean I'm worry free? No, I just now know how to purge my worries quickly. In addition, I've noticed a great dimin-ishing of worries in my life since meeting my "worry angel."
Kate is not afraid to share her personal experiences, of her own spiritual journey, which creates a comfort in approaching her and asking the questions you might think are trivial; but you find are not. Another aspect of this program that just blew me away was the amount of bonus material she shares with each participant. You will find Kate is unselfish in pouring out her resources to support your spiritual journey and growth.
~~ Dominikija Prostak
**************
During a class module I was having trouble with my computer and couldn't get on the call. When I read the transcript I was thrilled to discover that as I read it, the loving energy that I receive on the calls was also very strong when I read the transcript! As a Lifetime Member, every time I experience the course, I get more out of it. I'm getting just what I need each time I participate. Thank you, thank you, thank you.
~~Barbie C.P.
**************
I was desiring to go deeper in studying and applying metaphysi-cal principles in my life, when I came across the Game of Life Mastery Program. I watched the introductory videos and used the gift meditations provided by Kate. I had such a shift from just the videos that I signed up for the program.
Kate has taken the timeless teachings of Florence Scovel Shinn and added tools to support your study. I can feel the healing energy of love in Kate's voice and her guided meditations are amazing. Although there is a lot of material, I did not feel overwhelmed as Kate encourages everyone to go at their own pace and listen for guidance. Taking the Game of Life Mastery Program was one of the best decisions I made this year. And I plan to take it again next year.
~~Catherine Rose Stevens, Intuitive Consultant, Energy Healer, and Spiritual Coach
**************
Your teachings have blown me away. I have been on a spiri-tual path for so many years, most recently focusing on learning to work with my angels. I have books, recordings, articles, paid readings and have learned a lot. But I have never had so many strategies presented to me as you have done. All of the medita-tions, processes, strategies, and guest speakers address different aspects of life. The affirmation information took the concept to a whole new level. All of the love and forgiveness activities are ones I am using.
There is so much information that I still have not processed it all. Your love and compassion comes through in each lesson. Sharing your own difficulties was so helpful as I struggle and feel that I must be the only one that struggles.
And to top it all off, I can do the program again as a lifetime member. Often, online classes present a lot of information at a fast pace to take it all in. It will be valuable for me to do the class again.
I took the class because when I read Florence's book, it blew me away. I knew the concepts from my other work, but she had a way of expressing them so simply, but powerfully, that I couldn't put her book down. So when you offered the class, I knew I had to take it. I didn't know what to expect, but I got way, way more than I ever dreamed.
God bless you.
~~Mary Jo Cox
**************
Twenty years of intense personal development and growth have made significant positive changes in my life and yet, the Game of Life Mastery Program with Kate Large has helped me to reach a whole new level.
While Florence Scovel Shinn's teachings are simple, it can be a challenge implementing them consistently in our lives on our own, especially when we are facing trials and tribulations.
Kate's loving instruction, expansion of Florence's teachings and support of everyone in the Game of Life Mastery community are phenomenal!
If you're looking for that elusive 'something' to finally help you create (and live) the life of your dreams, the Game of Life Mastery Program is for you!"
~~Patti Smith, Money Mindset Coach
**************
As someone experiencing the Game of Life Mastery Program for the first time, I am already anticipating enrolling in the next available series….a wonderful advantage of the lifetime membership offered by Kate and her Mastery Team. This amazing course is so rich with materials and concepts that I feel I am only skimming the surface of what is available to a seeker of spiritual growth and enlightenment.
According to a Buddhist proverb: "When the student is ready, the teacher will appear." I believe this expression epitomizes my involvement with Kate.
For most of my life, I have been searching for my true purpose and gathering the courage to fully embrace what the child within me already knew when I came into this world – I was born to be a poet. A vocation of this nature is not readily endorsed by our Western society, so I often felt in my youth that I didn't quite fit into the mainstream of life. More significantly, however, I had a very well-intentioned father who simply wanted his children to have "real jobs". Therefore, I was strongly discouraged as a teenager from listening to my intuition and following my dreams. Consequently, I wandered through a variety of employment options, each one, in retrospect, being very valuable in the circui-tous route of reclaiming my identity.
However, in the process of trying to find fulfillment in a variety of "real jobs", I suffered the alienation that comes from denying our spiritual essence. Although the "writer" within me inevitably surfaced in one way or another, I never fully declared who I was until about ten years ago. So I have many inner obstacles and resistances to overcome.
During the past decade I have been working specifically on this very process and I feel that Kate's program has come into my life at exactly the right moment. It is very exciting to realize that each time I explore the insights of Florence Scovel Shinn, as expanded upon by Kate, I can look forward to an ever-increasing awareness of my divinely-ordained life plan.
I eagerly anticipate each week's class module and have been learning to use the tools recommended for re-writing our neural pathways, clearing blockages, and claiming "what is mine by divine right under grace for the greater good of all". Early in the program I met my "worry angels" and the procedure for calling upon them has been very liberating. By attempting to live in the highest possible vibration of love energy, I know that I will become much more successful in attracting my vision of "heaven on earth".
Thanks to all the bonus gifts included with Kate's program, I now have a "cleanse and clear meditation" that I include as an important part of my daily exercises. Kate's angelic voice and exquisite visualizations have added significantly to my non-medicinal treatment for high blood pressure. A holistic approach to health has always seemed instinctively right to me. Therefore, I regard Kate as a powerful healer who brings a wealth of wisdom and skills to a world in great need of her superb mentoring. I especially appreciate the fact that Kate quickly responds to all our questions and works so diligently to ensure that her program not only meets but exceeds our expectations.
Another aspect of the program which has proven to be ex-tremely supportive is the private Facebook community. I went from no Facebook affiliation prior to this program to suddenly experiencing a community of like-minded individuals who are beacons of light, sharing warmth and loving illumination.
Thank you, Kate, for bringing the brilliance of Florence Scovel Shinn to a new generation. Thank you especially for interpreting her ideas with the radiance of your light and love. And thank you for your belief in our ability to attract the abundance that is our birthright.
~~Sharon Sinclair
**************
My a-ha moment was recognizing the many different types of emotions under the umbrella of "fear". I was able to shift with the tools taught to the love energy quite quickly. I could see the difference in my surroundings when I did this. I feel different too — empowered – because I was able to recognize my fear and make a choice of HOW I want to feel, then shift it.
I have taken many different classes that were similar to this yet the energy of this class was different. The teachings took me to a different level of being. The teachings are simple yet profound. I would highly recommend this class! I am looking forward to being a Lifetime Member!
Divine Blessings,
~~Camille Pukay, Animal Communicator and Reiki Specialist
**************
I get the daily Soul Kisses and when Kate started using quotes from Florence Scovel Shinn, I checked her out on Google finding out this awesome progressive thinking woman was born September 24th … 1871!!! And self published The Game of Life and How to Play It in 1925. Amazing! When Kate put out the email about Mastering the Game of Life, I was interested but needed some reassurance before spending the money … it was definitely not in my budget plans. I justified not registering by telling myself I would read the book and sign up 'next time'.
On the last possible day of registration I was still really on the fence! So I called on my angles. I asked them to send me a penny from Heaven if I was meant to sign up. And in case they needed an alternate option, they could show me some form of wings. This way I would know without a doubt what to do. I did see a couple of Harleys on the way home but knew in my heart that was not my sign for this. After a stop at my Chiropractor I decided to stop looking and go get a haircut. As I crossed the street on the way to my car I happened to notice a glint on the pavement. Yep you guessed it, a brand new 2014 penny, face up giving me my nod to signup!
Well the program has been more than I could have imagined! Kate is truly interested in participants succeeding. The calls are recorded. Within 24 hours we had copies of the call and tran-scripts, meditations and other supporting materials. I have never had transcripts of any study course. For me, being able to listen to the calls again later allowed me to be fully in the moment during the live calls. The transcripts allowed me to make easy accurate notes of things important to me. Hearing, reading and writing help me fully integrate what I'm learning. My workbook is not pristine but filled with colorful highlighting.
Over the last several weeks I have pealed off a few more layers of my personal onion and 'got it' on a deeper level that all life's lessons are important. What I don't learn to navigate now will be patiently waiting for me at some future moment. Thanks Flor-ence! Thanks Kate, for the life time study option. I have already signed up for the next session. Here's to Mastering the Game of Life with a smile :o)
~~Heather B.
**************
I want to preface this by saying have engaged in spiritual seek-ing for over 20 years. I have read and tried to apply what I learned from numerous books such as "A Course In Miracles" and almost every book by Marianne Williamson, " Angelspeake", "The Secret", "Conversations With God", many books by Dr. Wayne Dyer like "The Power of Intention" and every book by Gary Zukav relating to "The Seat of the Soul". I also tried Gary Zukav's online Emo-tional Awareness course, all with limited and short lived success. I also tried the program "The Solution" by Laurel Mellin and read her book "Wired for Joy" and even had a one on one session with her.
So, I have tried and failed countless times. But, I did not give up and kept seeking. In August of this year during a dark and depressed period of my life, I meditated and prayed and pleaded for guidance and help from God and the angels, day after day. Then I saw an email in my inbox from Kate about the Game of Life Mastery program. It was for the second video, which I watched and immediately watched the first one as well.
As soon as registration opened I signed up.
I was, and continue to be amazed at how quickly things changed, the powerful breakthroughs I have experienced and the changes in me since starting the program.
All the things I tried before had good information and advice, but not much clear direction on how to implement it. Such as rewriting neural pathways, or "The Secret" saying you needed to be positive so think of something happy like a cute puppy and to try to convince yourself you already have what you want. But, when you are sitting in your crappy car and it won't start it is not easy to convince yourself you have that nice brand new vehicle.
Kate and The Game of Life Mastery program have truly changed my life. Many spiritual books say raise your energy to higher vibration, but do not tell you how to do that. Kate gives you an abundance of tools to accomplish this. She also provides clear guidance on how to work with your Angels for guidance and support.
The private Facebook page is also a tremendous support. Not only will others respond and support you, but Kate herself regu-larly responds, answers questions and gives you inspiration and warm, loving support.
What is the difference between The Game of Life Mastery Program and all the others I have tried? For me the most impor-tant difference has been Kate herself. I cannot emphasize enough how instrumental her warm, caring support is to succeeding at this program. I feel truly blessed to have found her and this program.
Also, I absolutely love the fact that she incorporates talking to your angels, and a focus on God as the creator of all that is, with the law of attraction principles. Everything she teaches such as rewriting neural pathways, talking to your angels and raising your energy to a higher level, I have read about and tried before, but until now could not do it.
I have made more progress since I started this program then in the previous more than 20 years of effort combined. Kate is an inspirational, motivational and effective teacher and leader of this wonderful program. If you are open and receptive, this program will change your life!
Kate thank you again for everything, and for your caring and support. You are truly and amazing person!
~~Amy Goguen
**************
I first came across the writings of Florence Scovel Shinn when a friend gave me the book "The Magic Path of Intuition" as a Christmas present in 2013. I started to read it straight away and couldn't put it down .. I must have read it over and over on so many occasions .. I couldn't get enough of it.
I then researched online to see what other books Florence had written and came across the four-in-one book and it was ordered straight away by another friend of mine, who bought the book as a gift as I had re-introduced her to Florence's work and she also started putting things into action.
I further researched and came across Kate Large's Workbook on The Game of Life and How to Play It and ordered it straight away .. couldn't wait for it to arrive. When it did, I started using the Workbook immediately and noticed lots of shifts of energy and just felt like I finally found the right tools for me to create the life I wanted to have.
I had a couple of questions that I wanted answered and not knowing Kate (yet), I found an email address in the book and wondered if it would still be in existence .. so I sent an email with my questions, and to my very great and wonderful surprise, I received a reply from Kate herself, not only answering my ques-tions, but also advising that if I had any other questions, please feel free to email her again .. I couldn't help but think what a nice person to offer that.
Kate very kindly sent me information about her Soul Kisses website and kindly gave me a complimentary invitation to attend her 5 day Mini Vacation with the Angels meditation she was running .. signed up for these and loved the meditations .. I noticed on Kate's website she was intending to run a Mastery Program on the Game of Life and so I signed up for it and couldn't wait for it to start. As I had been having such a shift in my energy and have been letting go of so many judgments, old non-serving habits, thought patterns etc and found myself in a much better place, so I invited a couple of my friends to also participate in Kate's Mastery Program and the three of us loved it and experienced so many wonderful aha moments ..
I am attracting in so many wonderful moments/opportunities and helping so many other friends with all that I have learned this year, I have been truly amazed with my progress. I know I am doing a lot of work on myself, however without Kate's guidance and love in my journey, I believe I wouldn't have progressed anywhere near as quickly as I have, nor appreciated or acknowl-edged my progress. Kate has supported me and is so accessible it is wonderful. I have done lots of programs with others, but never has the Facilitator been so accessible as Kate .. to me this shows she is true to her word and really wants to help spread the message about Florence's work.
In the Mastery Program, Kate has given us bonus sessions, we have had recordings and transcripts from the calls available within 24 hours, she has given away so many bonus gifts, introduced us to Mastery Experts and her generosity just keeps giving .. it is amaz-ing!
If you are thinking about doing the Mastery Program, or per-haps having an Angel Reading with Kate, or doing any of her other programs, I would absolutely encourage you to go ahead and sign up! I'm so blessed I did and will be doing the Program again in the future .. I am shifting my energy and am creating in my life what I want to create .. I'm not where I want to be just yet, but I am so much closer to it than ever before and know it is about consistently moving forward, believing in myself, allowing my Angels to work with and for me .. it is a really exciting journey for sure!
Kate, thank you so much for your love, support and belief in me and for holding the energy for me to be who I came here to be, to create what I want to create and have everything I want .. I'm so appreciative and thankful and so excited about the journey forward.
Bless you Kate,
~~Pam F. (Australia)
**************
Even though I've done so much of my own healing, The Game of Life Mastery Program illuminated areas and beliefs I'd kept well hidden. With each successive lesson, I dug increasingly deeper with the aid tools provided and the warm, encouraging support of Kate and my classmates. Each lesson allowed me to uncover something whether on my own or by hearing and being triggered by other students. I was amazed at how much more healing I needed and was THRILLED to do so right then & there!
This program helped me to shift out of old patterning, beliefs, attitudes, and habits that have been blocking me from living a full life. Sometimes the biggest hurdle is identifying the block or the false belief you've been carrying around deep, deep within! The gentle and loving acceptance of Kate and the other members of the class on the FB community and the use of provided tools allowed me to take risks in feeling through my old wounds and defenses to fully release that old emotional energy. I feel much lighter with increased feelings of peace and calm.
It's not 'magic' as you need to do the work and excavate your interior landscape but you learn to believe in yourself and own the power of your positive beliefs… in yourself and in the world/universe to support & provide for you. I have seen and experienced firsthand the power of my beliefs and the universe joining and creating synchronicities and events occurring for my highest good.
I love the book, The Game of Life and How to Play It by Frances Scovel Shinn, and the pure simplicity of it. Then, to have the benefit of delving in deeper to each lesson weekly with Kate was such a bonus. This book and this course are really timeless and I have found myself returning to both the book and lesson & tools again & again as other events arise in life AND finding solutions and further insights I didn't see the first time through the material. It truly is masterful at teaching me to 'retrain my brain' out of a fear & scarcity mindset to that of trust & abundance!
I highly recommend this course as it is life changing…from the inside out!
~~Dawn Pinke Anderson, Minnesota
Refund Policy  This program consists of digital files that are accessible immediately after payment.  There are no refunds.  If you wish to cancel your monthly payment account, please go to our contact page to learn how to contact us by mail or email.