Infinite Spirit, open the way for great abundance for me…  I am an irresistible magnet for all that belongs to me by divine right!
~~ Florence


The Game audio:  click here to download
play time 15:59 mins
The Game chapter PDF file: click here to download

The Game audio:  click here to download
play time 15:59 mins
The Game chapter PDF file: click here to download
The Game of Life and How to Play It book PDF file: click here
Bonus Info

When we go to sleep our brains continue to process the events/energy of the day.  When we set the intention to improve our lives, sometimes our dreams can become strange, weird or even nightmares.  When I asked the angels for help with this, they gave me this simple action step:
Before going to sleep, ask your angels to help you to only remember the parts of your dreams that will benefit you during your waking hours.
As a result, you will probably not remember your dreams at all.  If you do remember, the dream holds a message for you – and sometimes, the message is not literal.
Dream Example:  the toilet overflows.  If this were my dream, I would know that change is happening for me, because I know that water in a dream means change.
RECOMMENDED RESOURCES

MasterClasses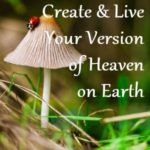 Note: The meditations and Masterclasses may be purchased individually from the MasterClasses and Meditations page.  They are included in the Manifesting Miracles Membership.