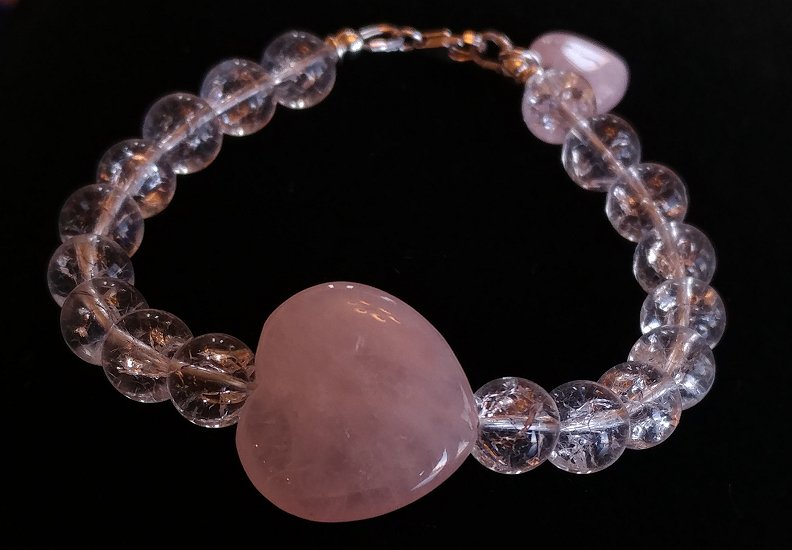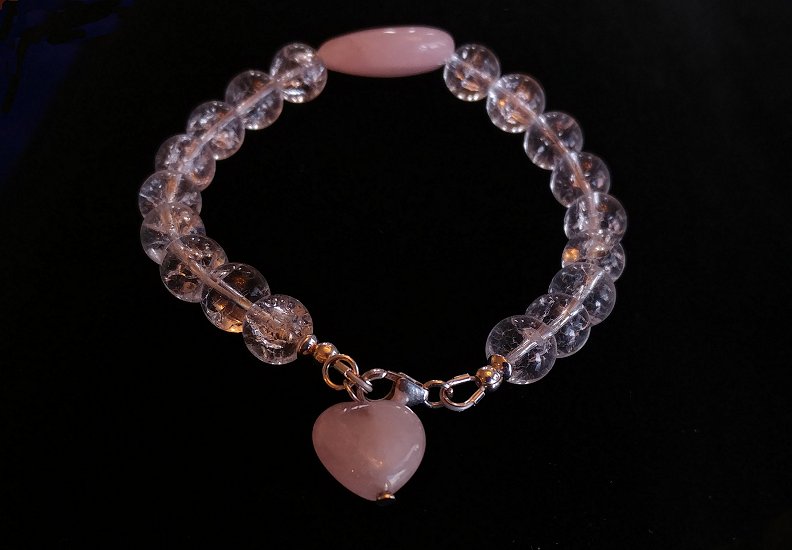 Empower Yourself with LOVE

LOVE is the most powerful magnetic force in the universe.
We attract like a magnet, life experiences of the same vibration of our energy.
CHOOSE to BE the LOVE vibration and you will create the highest possible outcome and experiences of your highest good.
The Empower Yourself with LOVE Bracelet supports you to reconnect and BE the love that is your essence. Wear this bracelet as a Physical Reminder to consciously choose to BE of the Love Vibration (you cannot be in fear and love at the same time). Each time you see it and touch it, focus your power to create and live the life that brings you joy – no matter what's going on around you!
The gemstones of this beautiful bracelet will enhance the powerful energies of your other bracelets.
I love wearing this with several bracelets to magnify all the energy together and to P-O-W-E-R-F-U-L-L-Y remind me that:
I have the power to improve my life!
You do, too.
In love and light,
Kate
GEMSTONES: Rose Quartz, Cracked Clear Quartz + .925 Silver clasp & hardware
Round gemstones are 8mm, large heart is 20mm x 20mm, small heart is 12mm x 12mm
All bracelets are handmade by Kate.  Each bracelet is cleared and cleansed of energy, then blessed and infused with healing Reiki prior to mailing to you.  Allow up to 10 business days for the creation of your bracelet.

.925 silver is used for all hardware and silver beads.
NOTE:  Be sure to select:
* The correct SIZE for your bracelet **AND ===>Select the clasp you prefer: Lobster OR Toggle?
Additional Note:  Due to browsers, monitors and the nature of gemstones, colors will vary.
Have trouble with clasps and prefer an elastic, stretch bracelet? Gotcha covered!
* encourages unconditional love
* teaches true essence of love and comforts grief
* purifies & opens the heart to love at all levels for deep inner healing & self love
* calming & reassuring – restores trust & harmony
* draws off negative energy – replaces with love
* aids in acceptance of necessary change
* enhances positive affirmations
* heals suppressed pain
* transmutes emotional conditioning that no longer serves to love
* encourages self-forgiveness & acceptance
* invokes self trust & self worth
* strengthens physical heart & circulatory system
* releases impurities from body fluids
* most powerful, healing & energy amplifier
* absorbs, stores, releases & regulates energy
* unblocks energy & dispels static electricity
* raises energy to the highest level possible
* enhances psychic abilities
* attunes to spiritual purpose
* filters out distraction in meditation
* aids concentration, aligns consciousness & unlocks memory
* efficient receptor for programming
* energy saver
* stimulates immune system
* harmonizes all chakras
* channels and absorbs the energy of gemstones for healing
* stimulates psychic and spiritual awareness
* serves as a disinfectant for the body to boost immunity
* stimulates Kundalini energy